Whenever you need a quick, healthy, high-protein snack, reach for these Gluten-Free Quinoa Crackers! They're a cinch to make, are extra crispy and go with all your favorite dips!
I always assumed that crackers were hard to make. That they took forever to prepare, then you had to fry them up and it would end up being much more hassle than it was worth. I avoided them, didn't even look at recipes, because I figured it wasn't for me.
It wasn't until I started experimenting on my own, that I realized gluten-free crackers are actually quite simple. Just throw a few ingredients into a food processor, roll it out and bake it. They're almost easier than cookies!
And I mean honestly, what's better than crispy gluten-free quinoa crackers dipped in hummus? I know it's one of my personal favorites.
This is actually the first quinoa cracker recipe I ever made. I originally shared it back in 2012 and have since made countless other cracker creations. We have our Cheezy Kale & Quinoa Crackers, Garlic & Rosemary Quinoa Crackers and even Gluten-free Honey Graham Crackers.
But these little nuggets? These are the OG quinoa crackers and they were in desperate need of some love.
So we're sprucing up the post, giving you some process shots and share a few tips and tricks to make these crackers even more legit than the first round.
It all starts with toasting our flours. This is the trick to making these crackers have a robust, nutty flavor and it actually only adds like three minutes to the prep time.  You can just toss it all together in a skillet until it starts to smell a bit nutty and then toss it in your food processor.
From there, it's just adding in the rest of your ingredients, whizzing it up to form a dough, rolling it out and toss it in the oven.
A few updates I made to the recipe which makes it more customizable…
Use any other gluten-free, whole-grain flour as the second flour (I've used millet, sorghum and chickpea)
Use any seed to replace the hemp seeds
Use any sweetener to replace the honey
Use any spice combination to replace the spices
So basically, these crackers can be tweaked and tweaked and tweaked again to suit all your snacking needs!
Another trick is to try and roll these out as thin as you can. That will reduce the baking time and create the wheat thin-esque cracker.
And my last trick? Let them sit in the warm oven with the oven door propped open slightly for at least 30 minutes to get a SUPER duper crispy cracker. It's optional, but it really makes them so crispy and delicious!
And while these crackers certainly make an awesome snack on their own (they are super high in protein after all), I'm also a fan of dipping!
I have a recipe for spinach hummus dip below, but these crackers would be equally as tasty if you served them with:
Can't wait to see what flavors you make from these crackers ❤️ make sure to share a pic with me on social media by tagging my Instagram account @simplyquinoa or using #simplyquinoa!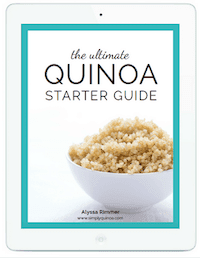 New to cooking quinoa? Grab your FREE Quinoa Starter Guide!
Become part of the Simply Quinoa community and receive weekly emails with exclusive content that I only share in email, as well as my in-depth guide to starting your quinoa journey.
Download Your Free Guide